Millions of people in the U.S. have already received their COVID-19 vaccinations. However, there still seems to be a lot of misinformation circulating about the effects of the COVID-19 vaccines. According to health officials, you need to get both doses of the vaccine and give your body sufficient time to build up immunity to fight the COVID-19 virus.
Dr. Quyen, Trinh, an Osteopathic doctor in Katy, TX, says that one of the major questions that people ask is–can life go back to normal after they get vaccinated? Are they free to do all the things they did before the pandemic without catching the COVID-19 virus? Please keep reading to learn the answers to these questions and our top 5 tips to keep you and your family healthy after immunization.
1. Learn What to Expect After Vaccination
Understanding the side effects of the COVID-19 vaccines and how to handle them will help you manage your health post-vaccination. According to the CDC, there are some typical side effects that you may encounter as your body starts to build protection against the coronavirus.
Don't be alarmed, as these side effects should subside in a few days. However, if they worsen or linger for more than a week, contact your doctor or healthcare provider. If you believe it is life-threatening, call 911 or go directly to the emergency room (ER).  
Here are some helpful tips to help with minor aches due to the vaccine:
You can also check with your doctor to see if you can take an over-the-counter medication such as ibuprofen, aspirin, antihistamines, or acetaminophen to help with the discomfort. If you need a primary care physician, contact Dr. Quyen Trinh, a trusted and well-respected Osteopathic doctor in Katy, TX.
2. Continue to Follow Safety Guidelines
Even after you have received both doses of the COVID-19 vaccine, it is important to continue following safety protocols such as social distancing, washing your hands, and wearing your masks when you are in public. On average, it could take 2-3 weeks for your body to build up immunity.  
While your chances of catching the COVID-19 virus are low after vaccination, neither vaccines are 100% effective. The Pfizer-BioNTech COVID-19 vaccine is 95% effective, while the Moderna COVID-19 vaccine is 94.1% effective in preventing the COVID-19 virus. However, research shows that people who caught the coronavirus after vaccination encounter milder symptoms.
More research is underway to determine if a person who gets vaccinated is still a carrier of the COVID-19 virus. To help reduce the spread of the coronavirus to unvaccinated people, you should continue to follow the safety guidelines while in public and around at-risk family members and friends.
3. Stay Hydrated by Drinking Water 
Drinking plenty of water may help reduce some of the minor aches and pain associated with vaccination. Experts agree that, on average, men should drink about 16 cups of water a day while women should drink about 11 cups a day to stay hydrated. 
Water is good at quenching your thirst, but it has so many other excellent health benefits such as:    
Preventing infections 

Regulating body temperature 

Keeping organs functioning properly 

Improving cognitive functions

Keeping joints lubricated

Delivering nutrients to cells

Improving sleep quality  
Drinking plenty of water should be part of your daily routine, along with a healthy eating plan and exercise. It is important to note, however, that you should avoid overhydrating. Drinking too much water can lead to low sodium levels, which may cause your body more harm than good.
4. Strengthen Mental Health and Reduce Stress
Many Americans continue to struggle with mental health issues and stress related to the COVID-19 virus, even with a vaccine available. The misinformation circulating about the vaccine and its effectiveness is causing anxiety and fear, contributing to ongoing mental health and stress issues.  
A healthy mind leads to a healthy heart and body. To achieve this, you need to work on strengthening your mental health and reducing your stress levels. Stress left untreated can lead to many health issues such as high blood pressure, heart disease, diabetes, and obesity.
Here are a few ways the CDC says that stress can affect your mind and body:
Decrease in cognitive function such as making decisions or focusing on a task

Increase in negative emotions such as fear, anxiety, sadness, or frustration

Low energy, loss of appetite, or interests

Difficulty resting or sleeping 

Headaches, muscle cramps, or indigestion

Worsening of mental health issues

Worsening of co-morbidities

Increase substance abuse such as smoking, drinking, or narcotics
The COVID-19 vaccine can help you fight the virus, but it cannot reduce stress or strengthen your mental fortitude. Here are a few tips you can try to help reduce stress and increase your mental strength:
Focus on self-care:

 Make time to take care of yourself. Eat healthy and well-balanced meals, get plenty of sleep, drink the required amount of water, take vitamins, exercise, or meditate. 

Reduce media usage:

This includes watching the news, engaging with social media or other news outlets that can increase your stress levels about COVID-19. Taking frequent breaks from news about the coronavirus can help you mentally recharge.

Increase recreational time

: Try a new hobby or sport. Go for long walks or hikes. Spend quality time with friends and family. Taking time to do the things you enjoy will help you mentally and physically.

Make virtual connections:

Reach out and speak candidly about your fears and worries with friends, family, religious organizations, or community. Building virtual support groups or networks can help you manage stress and mentally cope with your anxiety and fears.
5. Do Not Avoid Scheduled Doctor Check-ups 
Whether you choose to get vaccinated or not, it is crucial that you continue to see your primary care physician for scheduled, routine check-ups during the pandemic. These check-ups allow your doctor to make sure that you are healthy. 
If medical issues are detected early, it is much easier to provide treatment right away to ensure your condition does not spin out of control. Health issues, especially chronic-related issues, left untreated for an extended period, could worsen and be more challenging and take longer to treat. In some cases, they could become life-threatening or life-altering long-term.
The CDC reported that 41% of US adults had delayed or avoided medical care during the pandemic. See why seeking medical care is vital to help you fight the COVID-19 virus, especially for the elderly and people with chronic conditions. 
To stay healthy after vaccination, make it a priority to see your doctor for routine check-ups to maintain your quality of life.
Connect with a Medical Clinic Katy TX Trusts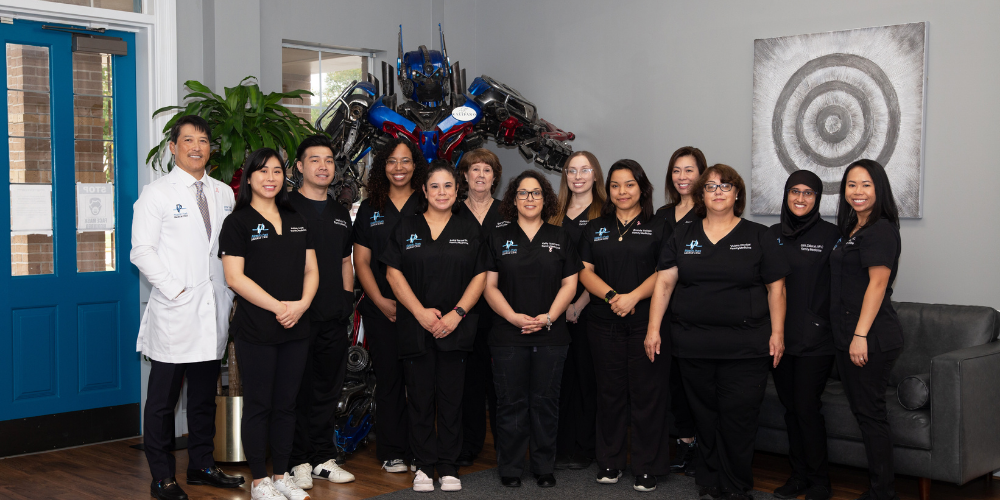 If you're looking for a new medical care provider, you've come to the right place. We're a patient-first primary care provider located in Katy, TX. Our accountable and evidence-based care approach ensures that you get the highest quality of care.
We have a team of dedicated medical practitioners ready to help you. Our Managing Physician, Dr. Trinh, is an established Doctor of Osteopathic Medicine. The NCQA nationally recognizes him for Diabetes and Heart/Stroke Management and Care, and he is also a recipient of the TX Top Docs Award.
Call us at (281) 646-0740 to schedule an appointment, or if you prefer, you can book an appointment online. For your convenience, we also offer telehealth appointments.